Information
Choosing your wedding cake is one of the highlights of wedding planning. I offer a professional, trustworthy yet friendly service, enabling the couple to have a memorable experience, starting from choosing flavours from my comprehensive flavour menu, the design process and execution, right through to the careful set-up of their cake.
By listening to my clients' ideas, and applying my professional and artistic experience, I am able to design the perfect cake for their special celebration, reflecting their personality and style.
I am passionate about creating the perfect cake for my clients; a wedding cake to tell their unique story. As a result, I don't copy cakes, not even my own. Every couple is different so they deserve their own unique centrepiece. To enable me to do this, I work closely with my clients, getting to know them in order to design and create a unique centrepiece, perfect for them on their special day, designs may include stunning, realistic looking hand crafted sugar flowers, piped lace designs taken from the brides dress, inspiration from their invitations or something contemporary, modern and fun.
All cakes are baked from scratch in my 5* rated kitchen with love and care using ethically sourced, premium quality ingredients to ensure the cakes taste even better than they look.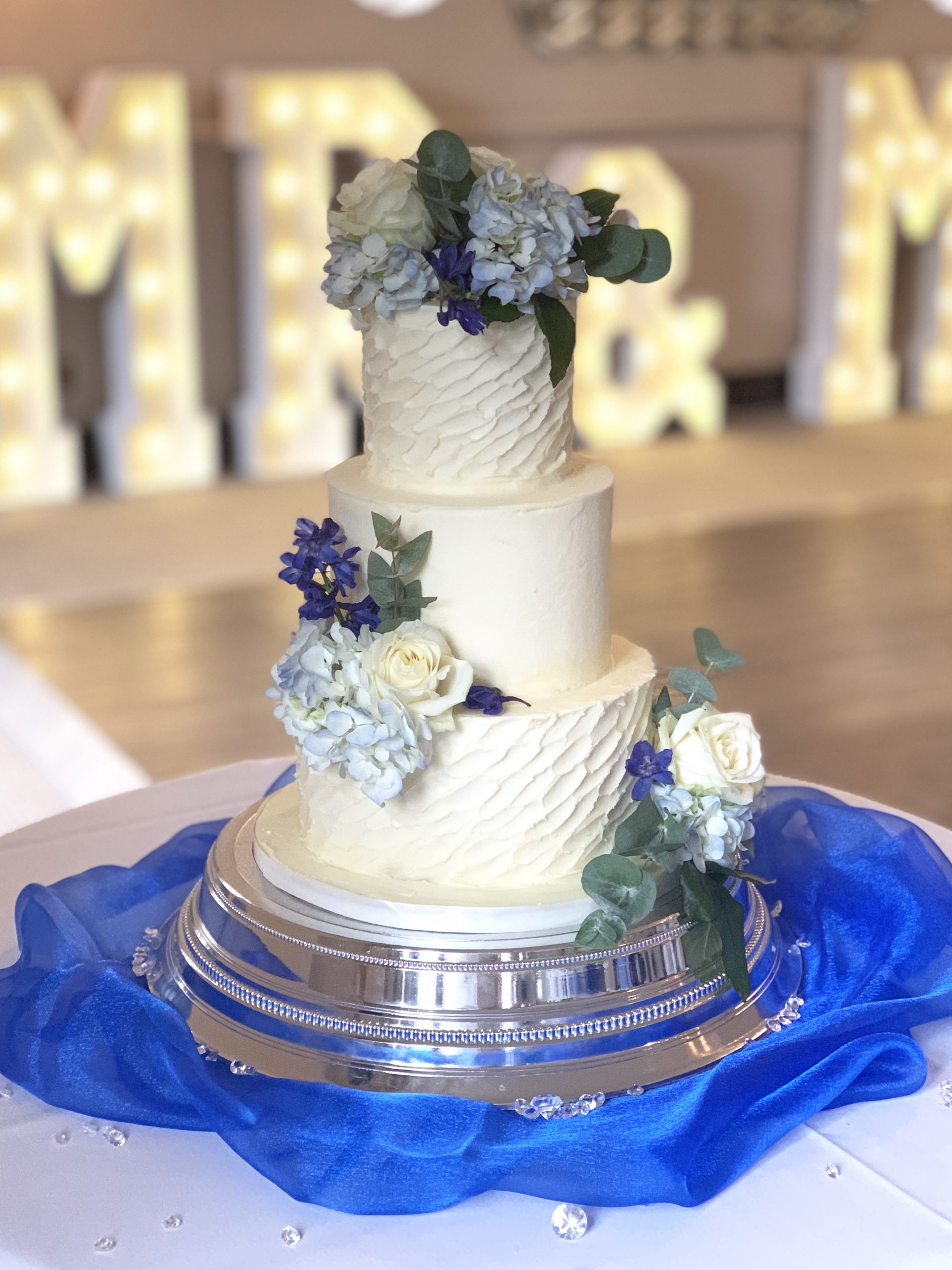 Portions & Pricing
All our wedding cakes are unique creations, and therefore the prices will vary according to size and complexity of the design. This is a guide, based on a 4 ½ " deep cake cut into 1" x 1" slices. For a detailed quotation, please complete the contact form or contact us using the details below.
Single tier from £200
2 tiers from £275
3 tiers from £375
4 tiers from £500
Cutting cakes can be provided to supply extra portions for weddings with high numbers of guests.
8" square cake: 64 extra slices
10" square cake: 100 extra slices
12" square cake: 140 extra slices
Cake Flavours
The first decision my customers have to make is a choice between traditional, rich fruit cake; Madeira sponge cake; moist chocolate cake; or carrot cake. The sponge cakes can be filled with jam and vanilla buttercream; dark, milk, or white chocolate buttercream; or lemon buttercream, although other flavoured buttercreams are available on request. The cake is then covered with soft sugarpaste icing. Rich fruit cakes are covered with a layer of marzipan and then coated with soft sugarpaste icing or traditional royal icing.
If you are having more than one tier, you may choose to have a combination of the cake flavours (see below). To accommodate as many customers as possible, I am more than happy to cater for special dietary requirements, producing gluten-free and dairy-free cakes and using eggless sponge.
Portion Guide
Please let me know how many portions you would like to be able to cut from your cake, and I will ensure the design is large enough to suit your special occasion. Cutting cakes are also available to cater for weddings with a high number of guests.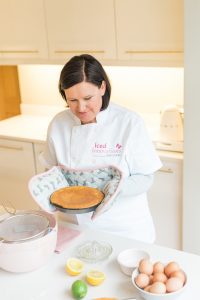 Old fashioned Victoria Sandwich
Madagascan Vanilla sponge with silky vanilla buttercream and raspberry preserve
Champagne and Strawberry
Madagascan Vanilla sponge infused with champagne syrup and filled with silky vanilla buttercream and strawberry preserve
Raspberry and White Chocolate
A moist vanilla and raspberry sponge filled with white chocolate ganache and raspberry preserve
Very Chocolatey,
Chocolate Fudge
A rich and decadent chocolate cake layered with Belgian chocolate ganache
Luscious Lemon
A moist lemon sponge with zesty lemon buttercream and lemon curd
Purely Passionfruit
A moist vanilla sponge with passionfruit buttercream and passionfruit curd
Salted Caramel
A decadent chocolate sponge with Salted caramel buttercream and covered with chocolate ganache
Carrot cake
To die for carrot, pineapple and pecan cake filled with cream cheese buttercream (contains nuts)
Trendy Lemon and Elderflower
A lemon sponge, infused with lemon and elderflower syrup, filled with lemon and elderflower buttercream
Lime and Coconut
Coconut and lime cake drizzled with lime syrup and filled with coconut buttercream
Jamaican Ginger
Spiced ginger cake filled with Madagascan vanilla paste buttercream
Red velvet cake
A classic, light textured red velvet sponge with white chocolate ganache buttercream
Rich Fruit Cake
A matured brandy soaked rich fruit cake covered with delicious almond white marzipan (contains nuts)