The first decision my customers have to make is to choose their flavours. My menu offers a range of flavours between traditional, rich fruit cake; Madeira sponge cake; moist chocolate cake; or carrot cake. The sponge cakes can be filled with jam and vanilla buttercream; dark, milk, or white chocolate buttercream; or lemon buttercream, although other flavour buttercreams are available on request. The cake is then covered with soft sugarpaste icing. Rich fruit cakes are covered with a layer of marzipan and then coated with soft sugarpaste icing or traditional royal icing.
If you are having more than one tier, you may choose to have a combination of the cake flavours (see below). To accommodate as many customers as possible, I am more than happy to cater for special dietary requirements, producing gluten-free and dairy-free cakes and using eggless sponge.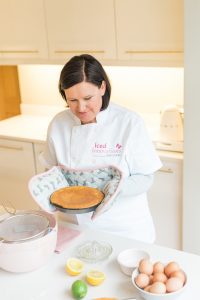 OLD FASHIONED VICTORIA SANDWICH
Madagascan Vanilla sponge with silky vanilla buttercream and raspberry preserve.
CHAMPAGNE & STRAWBERRY
Madagascan Vanilla sponge infused with champagne syrup and filled with silky vanilla buttercream and strawberry preserve.
RASPBERRY & WHITE CHOCOLATE
A moist vanilla and raspberry sponge filled with white chocolate ganache and raspberry preserve
VERY CHOCOLATEY, CHOCOLATE FUDGE
A rich and decadent chocolate cake layered with Belgian chocolate ganache
LUSCIOUS LEMON
A moist lemon sponge with zesty lemon buttercream and lemon curd
PURELY PASSIONFRUIT
A moist vanilla sponge with passionfruit buttercream and passionfruit curd
SALTED CARAMEL
A decadent chocolate sponge with Salted caramel buttercream and covered with chocolate ganache
CARROT CAKE
To die for carrot, pineapple and pecan cake filled with cream cheese buttercream (contains nuts)
TRENDY LEMON & ELDERFLOWER
A lemon sponge, infused with lemon and elderflower syrup, filled with lemon and elderflower buttercream
JAMAICAN GINGER
Spiced ginger cake filled with Madagascan vanilla paste buttercream
RED VELVET CAKE
A classic, light textured red velvet sponge with white chocolate ganache buttercream
RICH FRUIT CAKE
A matured brandy soaked rich fruit cake covered with delicious almond white marzipan (contains nuts)
Please let me know how many portions you would like to be able to cut from your cake, and I will ensure the design is large enough to suit your special occasion. Cutting cakes are also available to cater for weddings with a high number of guests.